Popular Male Masturbators
What is the tightest Fleshlight?
If you are looking to buy a Fleshlight then you will probably want to learn as much about the different Fleshlights. To begin with we highly recommend you take a look at our guide on 'What is a Fleshlight'. In that guide we touch on how Fleshlight is one of the leading male sex toy brands on the market, with over 2 million units sold. Fleshlights, Fleshlites or sex torches, are essentially male masturbators with a hard plastic case. So in one sense they are similar to our best selling male vibrator, the REV1000 Rotating Male Masturbator, except Fleshlights do not have the rotating functions that the REV1000 does have.
Our research from one of our partners suggests that the tightest Fleshlight is the Fleshlight GO, which is a smaller travel friendly version of the classic Fleshlight. The Fleshlight GO looks just like other Fleshlight Sex Toys however is slightly smaller, making it easier to carry around with you. Other tight or more intense Fleshlights include the Pink Lady Vortex, this is because the internal sleeve on this male sex toy features a ribbed texture that feels incredible as you penetrate it. Fleshlight have also created and offer a super tight sleeve. You can remove the sleeve in your current Fleshlight, and replace it with this super tight sleeve, giving your Fleshlight a brand new look, and you a brand new sensation!
If you are looking for a different type of male masturbator and are after a very tight and intense experience, we highly recommend tying the Loving Joy Blow Job Stroker. This male masturbator features a mouth orifice that has realistic soft white teeth that gently caress your manhood as you penetrate it. This male masturbator also has a tongue and tonsils, this makes this masturbator even feel incredibly tight against your manhood, as well as delivers incredible sexual pleasure to the user. If you would like a male masturbator, but don't think this one is for you, then take a look at our guide to the best male masturbators.
Alternatively, if you have your heart set on buying the tightest Fleshlight, take a loo below at some of the tightest Fleshlights according to one of our valued partners, Sex Toys UK.
Flight Pilot by Fleshlight
The Flight Pilot by Fleshlight is a small and discreet
male masturbator that features internal ribbing for stimulation. It also features a twist base that allows the user to control the suction.
The Fleshlight Flight Pilot includes a sample of the Fleshlight lubricant, meaning that you can use the tightest fleshlight as soon as you receive it!
You can buy the Fleshlight Flight Pilot Today for only £44.95!

Fleshlight Turbo Thrust Blue Ice Male Masturbator
The Fleshlight Turbo Thrust Blue Ice Male
Masturbator is a unique fleshlight that features a translucent blue sleeve, and is housed in a see through plastic case.
This tight fleshlight will give you an incredible sensation as you move into it. This male sex toy will deliver a tight sensation similar to being deep throated.
You can buy the Fleshlight Turbo Blue Ice Male Masturbator today for only £50.95!

Fleshlight Sex In A Can Lady Larger
The Fleshlight Sex In A Can Lady Lager is another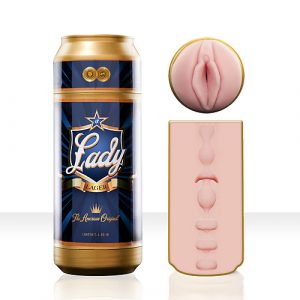 one of our tightest Fleshlights. This male sex toy has also been called the beer can vagina and vag in a can.
This sex in a can vagina is made from the patented realistic feeling material called SuperSkin. This male masturbator is incredibly discreet thanks to it being disguised in a beet can.
You can buy the Fleshlight Sex In A Can Lady Lager today for only £35.95!

If you have any more questions on 'what is the tightest Fleshlight' then please feel free to get in contact with us and one of our male sex toy experts will be more than happy to get back to you.